3 Simple and Quick Weeknight Dinners with Salmon
Since salmon is quick to cook, healthy and delicious the idea is to add it to dishes that cook faster. Then dinner is always a breeze. I also love the fact that I can pick up a pack from the supermarket that is just ready to cook…no prepping! Since salmon can be cooked in so many ways, flavored with a variety of sauces and marinades and served alongside a diverse range of vegetables, grain or meal, there is no end to the number of recipes one can have. I decided to share a few of my favorite ways of to eat Salmon today.
Sticky Asian Salmon with Soba Noodles Soba noodles are made from buckwheat flour and a great option for people on a gluten free diet (make sure you read the label properly). It also cooks very quickly which is the reason I pair it often with salmon. For some heat, you could add chopped red chillies to the marinade.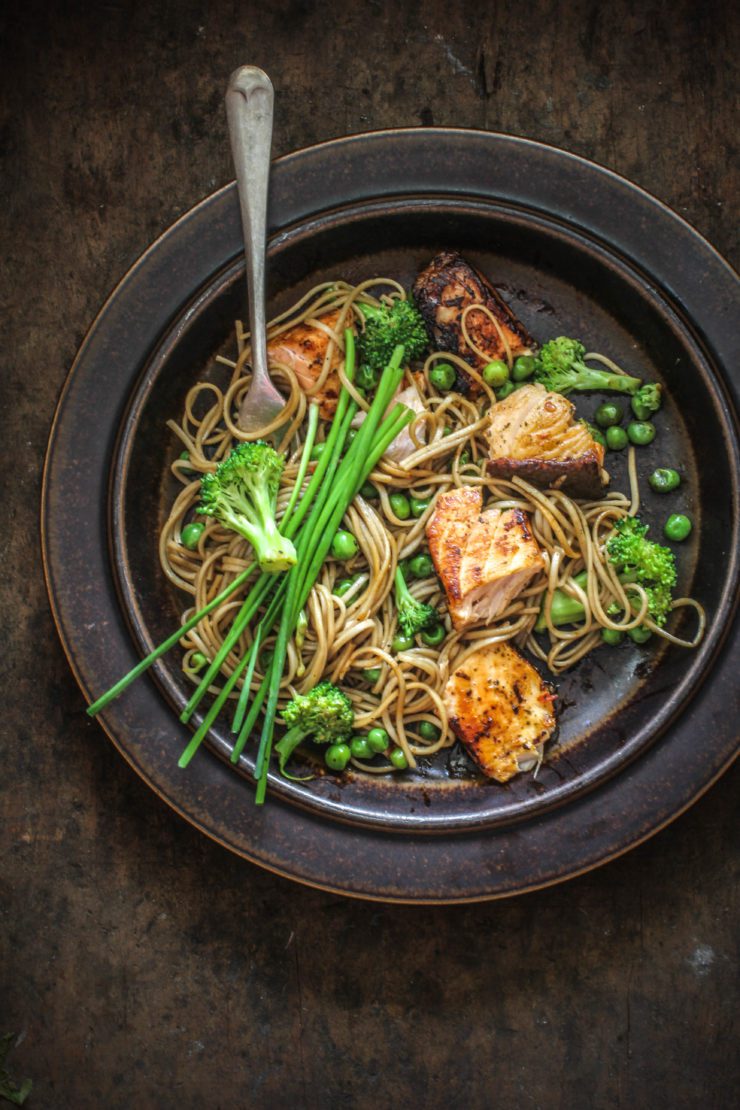 Sticky Asian Salmon With Soba Noodles And Greens
serves 4
4 skinless salmon fillets
2 tbsp soy sauce
1 tbsp honey
2 tbsp rice wine vinegar
1 inch ginger, peeled and grated
2 cloves garlic, finely sliced
2 tsp olive oil
Asian greens (chopped broccoli, snow peas, green peas, chives), to serve
salt, for seasoning
Mix the soy sauce, honey, vinegar, ginger and garlic in a bowl. Use 2 tablepoons of the mixture to marinate the salmon. Place a frying pan over medium heat. Add 1 tsp  olive oil. When heated, pan fry the salmon fillets till cooked to your liking (about 2-3 mins on each side). Remove the fillets and keep aside.
Meanwhile, cook the noodles as per instructions on the back of the pack. Drain well. Rinse. Leave aside.
In the same frying pan, heat the remaining 1 tsp olive oil over medium heat. Add the broccoli and stir fry for 2 minutes, then add the remaining greens. Pour the remaining marinade and noodles and mix till combined. Season.
Serve the noodles warm along with the salmon.
Roasted Maple Salmon With Pumpkin, Fennel and Truss Tomatoes : This is a great weeknight dinner option where you whisk up a quick sauce, chop a few vegetables and roast everything together. The oven does most of the work! There is sweetness from the maple syrup and heat from the chillies so you experience a wonderful balance of flavour.
Roasted Maple Salmon With Pumpkin, Fennel And Truss Tomatoes
Serves 4
4 salmon fillets (skinless or with skin), cleaned, prepped
1/4 cup olive oil
1/3 cup maple syrup
2 cloves garlic, crushed
1/2 tsp chilli flakes
1 tsp mixed herbs
salt, to season
10-12 cherry truss tomatoes
2-3 fennel bulbs, trimmed and quartered
1/2 butternut pumpkin, cut into wedges
Preheat oven to 220 degrees C (200 degrees C fan forced). Line a baking tray with baking paper. Place the olive oil, maple syrup, crushed garlic, chilli flakes, mixed herbs together in a small bowl.
Place the salmon, pumpkin, fennel and tomatoes on the prepared baking tray. Pour the oil and maple syrup mixture all over. Gently toss to combine. Roast for 15 minutes or till salmon is cooked through.
Remove tray from oven. Move the salmon aside and wrap in foil to keep warm. Roast the vegetables for a further 10 minutes or until soft and lightly browned.  Serve warm with noodles, pasta or bread.
Coconut Poached Salmon : This is an old recipe from my archives. One that is made over and over again at home. Salmon fillets are poached in coconut milk along with a few Asian ingredients. I am not going to rewrite the recipe as it remains pretty much the same. The only extra thing I have added here is a pinch of turmeric. The original recipe did not have it. You take your pick…with or without turmeric! It tastes amazing both ways.
Get the recipe here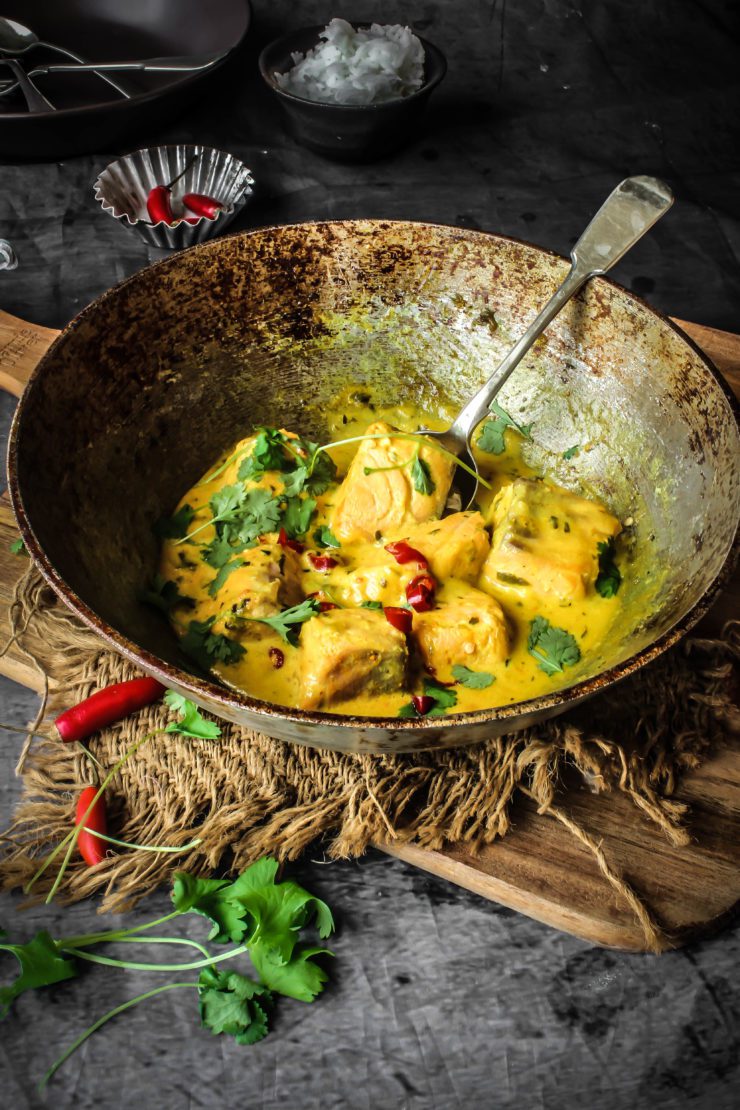 Spotted at: www.sugaretal.com